T & J IGA Supermarket
Recipes
https://www.tandjsupermarket.com/Recipes/Detail/6300/Pizza_with_Jarlsberg_and_Mushrooms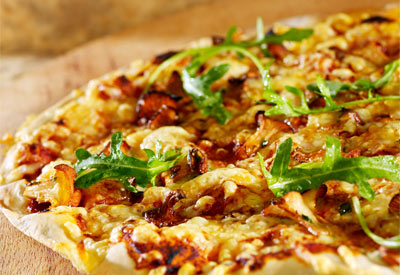 Pizza with Jarlsberg and Mushrooms
Yield: 4 (8- inch) pizzas
Ingredients
Dough:

1
lb.

whole wheat flour

1/2
teaspoon

salt

4
ounces

dry yeast

1
cup

lukewarm water

1
Tablespoon

extra virgin olive oil

Flour to roll the dough

Tomato Sauce:

7
ounces

tomato paste

2
teaspoons

dried thyme or other herb

4
Tablespoons

extra virgin olive oil

1/4
cup

water

Salt to taste

Granulated sugar to taste

Pepper to taste

Toppings:

12

mushrooms, cleaned and sliced

2
Tablespoons

extra virgin olive oil

4
teaspoons

tarragon

Salt to taste

Pepper to taste

14
ounces

grated Jarlsberg cheese

Garnish:

Arugula (rocket salad)
Directions:
Dough:
Mix the flour, salt and dry yeast and knead with the lukewarm water (the resulting dough should not be too soft).

Add olive oil and continue to knead until the dough achieves an elastic texture. Cover the dough with a cloth and keep it in a warm place until the risen dough becomes twice its initial size.

The pizza dough is now ready to be punched down and made into 4 8- inch diameter rounds. Preheat the oven with the baking tray inside to 480 degrees F.

Tomato Sauce:
While the dough is rising, prepare tomato sauce by combining tomato paste, thyme, olive oil, water, salt, sugar and pepper together in a bowl.

Toppings:
Combine mushrooms with olive oil, tarragon, salt and pepper. Spread a thin layer of tomato sauce on each dough round and sprinkle the Jarlsberg on top. Place seasoned mushrooms on top of the Jarlsberg.

Bake the pizza on the preheated baking tray in the lowest level of the oven until golden brown; about 12 to 15 minutes.

Sprinkle arugula (rocket salad) on top when serving the pizza.
Photo and Recipes Used with Permission from TINE BA - www.jarlsberg.com

Please note that some ingredients and brands may not be available in every store.
T & J IGA Supermarket
Recipes
https://www.tandjsupermarket.com/Recipes/Detail/6300/