T & J IGA Supermarket
Recipes
https://www.tandjsupermarket.com/Recipes/Detail/2580/Brie_with_Cranberry_Butter_and_Pistachios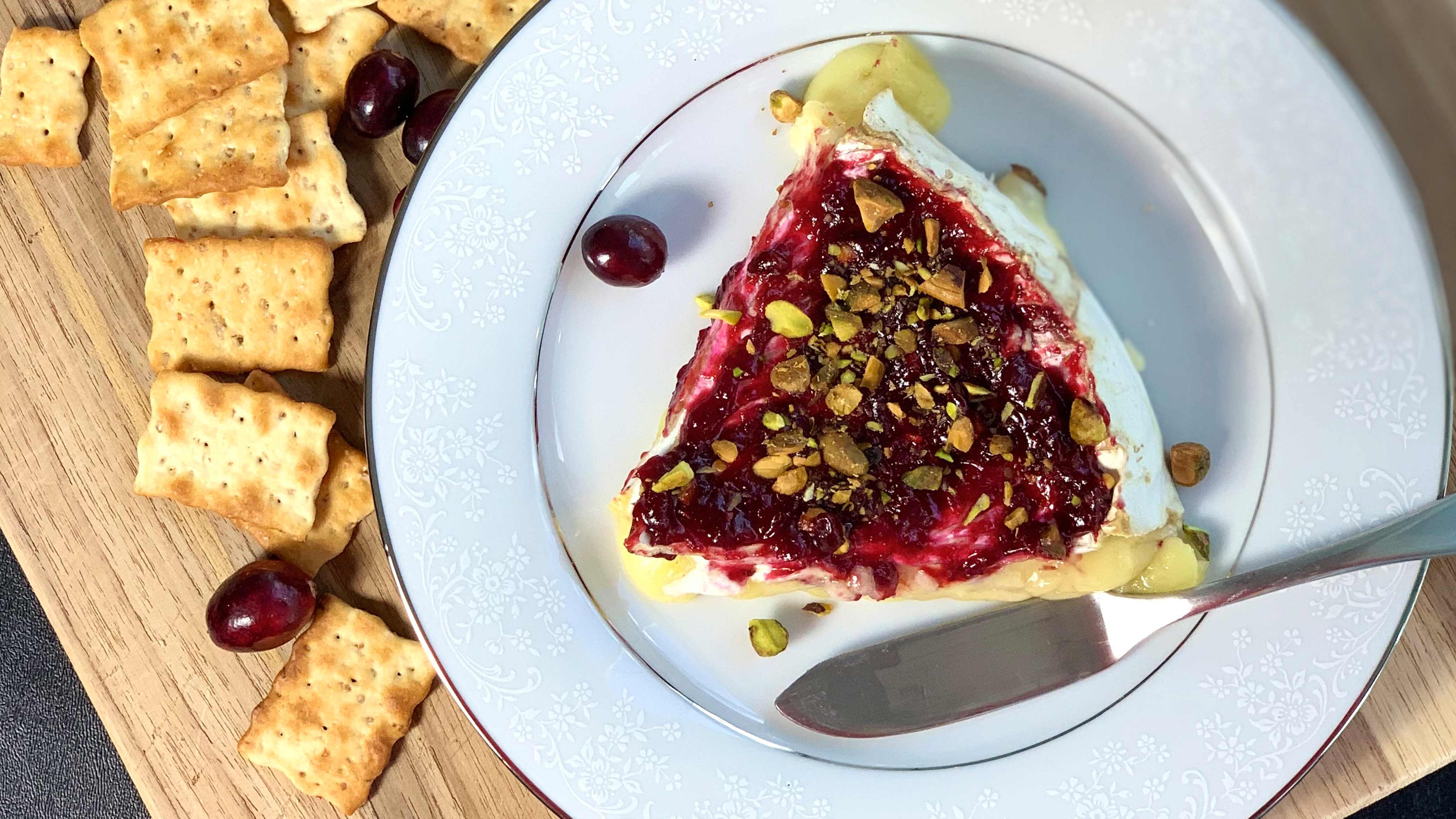 Brie with Cranberry Butter and Pistachios
Yield: 6-8 servings
Preparation Time: and total time: 30 min
Ingredients
1
bag

(12 ounces) fresh cranberries

1/2
cup

water

1/2
cup

maple syrup

6
tablespoons

brown sugar

1/2
teaspoon

cinnamon

1
teaspoon

vanilla extract

1
package

(5-8 ounces) brie cheese, with herbs or plain (round or wedge)

1/2-1
tablespoon

coarsely chopped pistachio nuts

Serve with:

thinly sliced baguette bread, toasted

crackers
Directions:
Preheat oven to 350 degrees F

Combine cranberries and water in a saucepan. Bring to a boil, reduce heat and simmer. Cover and cook for 5 minutes - the cranberries will pop!

Using an immersion blender*, puree until smooth.

Add syrup, brown sugar and cinnamon and stir to combine.

Bring to a boil, reduce heat and simmer for 10 minutes until mixture thickens.

Remove from heat and add vanilla. Set aside.

In the meantime, spray an 8- inch pan with nonstick cooking spray. Line pan with enough parchment paper so edges overlap about 1 inch on each side.

Place brie in center of pan - do not peel coating from the cheese.

Bake uncovered 8 minutes or until brie is soft and partially melted. Remove pan from oven and grabbing both ends of parchment paper, carefully lift the brie and slide onto a serving plate.

Top brie with 1/8 to 1/4 cup cranberry sauce and 1/2 to 1 tablespoon nuts. Serve immediately with toasted bread or crackers.

*If you don't have an immersion blender, place mixture into a blender or food processor taking care not to overfill as hot liquids expand. Puree until smooth. Transfer mixture back to the saucepan and continuing following the recipe.

Leftover cranberry butter should be refrigerated and will keep for up to one month.

Photo and food styling by Webstop

Cranberry Butter adapted from Chef Linda Stutesman
Please note that some ingredients and brands may not be available in every store.
T & J IGA Supermarket
Recipes
https://www.tandjsupermarket.com/Recipes/Detail/2580/